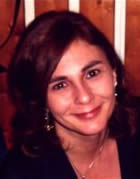 My name is Francesca Maria Casertano, I am an Archaeologist and Qualified Tour Guide in Rome and Vatican. I was born and raised here. I hold a Degree in "Conservation of Cultural Heritage" at the University of Tuscia in Viterbo and a Post Graduate Master in Cultural Heritage at the University of Tor Vergata in Rome.
I also worked in Rome in many archaeological excavation sites. With me you will discover more about this beautiful city, its art and history, legends and ancient monuments, the hidden corners, Romans and the Roman way of life. I can customize tours according to your interests to make your stay in Rome an unforgettable experience. I specialize in private tours for small groups, families with children, partners and business associates. My tours are private tours of Rome, so  the visit will be exclusively for you and can be tailored to your wishes.
Choose only Qualified Tour Guides:to ensure high quality standards, in Italy the tour guide profession is regulated by law. When you book Rome private tours is your right to verify that the guide is a qualified guide. Qualified Tour Guides must always display their license while working. Beware of the tours offered on the web where it is not specified that the guides are qualified tour guides.